Ask Vector Prime A Question Archives
April 14th, 2006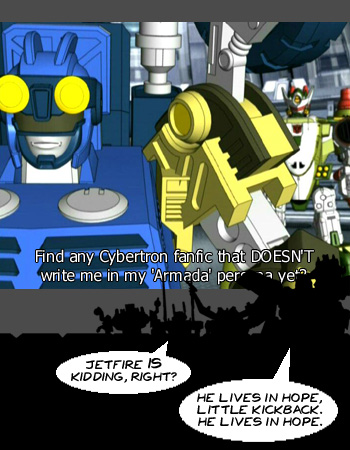 Of course, the official site hasn't updated.
Q: I have the REAL Cybertronian mode for Soundwave and co., ala War Within, to share with the public:
A: We're just going to link to the page, because if you haven't seen Rainking's page of 3D renders at Iacon City, you've been missing out. Click on 'Decepticons' and look for 'War Within: Soundwave'. Anyway, seven million years ago, Soundwave was a radar-tank. Four million years ago, he was a streetlamp. Apparently downgrades happen as well as upgrades. Maybe he was a really awesome streetlamp.
Q: Question -
Dear Vector Prime -
Hello. My owner recently received a BW Powerhug. He showed it your "Blinky" and now it's hugging me. That was a couple days ago. It won't come off. I can't transform with it wrapped around my head. Got any cures? Owner won't help me.
Thank you,
Armada Laserbeak figure
A: Blinkies cannot be commanded. They are a force of nature. The best you can do is point him at a new target. Claim that your worst enemy is sad and needs a hug.
Q: Oh Great Old Autobot who is probably one of the original thirteen:
1. How is it possible that the Autobots and Decepticons of Transformers Cybertron could live on Cybertron for thousands, maybe even millions of years, and NOT notice that the entire planet was a giant Transformer?
2. Have you ever met an evil alternate version of any Optimus Prime? And I don't mean a clone.
3. Is there a dimension where the Insecticons have ever beaten Galvatron on their own?
4. What would Override and Thunderblast do to Sideways if he altered the script of the Insecticomics so that there were five comics consisting of nothing but those two flirting with each other?
A: 1) Frankly, given that the Cybertron cast needs a pint-sized ground-ape to tell them such basic concepts as 'rerouting power', I'm surprised they can walk without tripping. For the rest of the multiverse, it's the sheer scale involved. It's hard to recognise a transform cog when it's the size of a city.
2) Yes. Generally in bad fanfiction where the Decepticons are just 'misunderstood'.
3) Define 'beat'. We've never had a Galvatron at the apartment, so they count that as a win.
4) Nothing, due to the fact that I would be protecting Sideways.
Q: Greetings from sub-orbit, Vector Prime,
Have you ever met me? We dragon-types can't be all bad, can we? Anyway, I have a couple of questions for you ( not including the previous two ):
1) What exactly are 'dino-electrodes'? An 'Autobot' with a Texan accent composed entirely of firearms accused me of having them in my circuits and thus being related to the Dinobots ...
2) What exactly is a 'primitive'? I scarcely see how a living multicellular animal could be a more primitive design than, say, an automobile ...
G1 Sky Lynx ( who would like to formally disassociate themself from the more recent 'Sky Lynx' or whathaveyou )
A: Good luck. I've been trying to convince everyone I'm not related to Optimus Prime or Vector Sigma and they still ask. You're stuck with a lime-green Minicon jet at your family reunions forever.
1) It was 'dinosaur electrons'. They are what happens when the writer of an episode has no idea what he's talking about. Electrons are electrons. There is no way to tell if a given electron came off a Dinobot, a tree, or a lithium atom.
2) 'Primitive' was defined in the episode as 'a Transformer with a beast mode'. The Beast Wars cast might have certain unkind things to say about that.
Q: Dear Vector Prime
I was just thinking about this and thus will ask you. Do the Transformers have holy days ( like Good Friday. ) If so, please remind me. Thanks,
Primus
A: Not really. We tend to ignore you unless you're in robot-mode or you've possessed someone, whereupon we give thanks that you didn't happen to us. Xaaron would have words with you about that if you hadn't burned him out like that.
Q: WE MAY HAVE BEEN ENTOMBED BY YOU BUT WE STILL LIVE ON SOON WHEN WE ARE READY WE WILL COME FORTH AND WIPE YOU OUT AND ALL THE TRANSFORMERS AS WELL FOR YOU ARE THE OTHER ENEMY OF THE DALEKS EX-TER-MIN-ATE EX-TER-MIN-ATE EX-TER-MIN-ATE!
The Daleks
A: You could leave that tomb of yours any time you like. It's just a short flight of stairs to ... oh, right. In any case, you can get in line behind the demons, Unicron, the Quintessons, Starscream hopped up on Underbase power, Circuit Breaker ...
Q: Dear Vector Prime,
What exactly do the Insecticons have over you that compels you to answer these letters? Hasbro I can understand, they own you, but ... the Insecticons? Why would you do anything on THIER behalf?
A: Bombshell - Has cerebro-shells.
Shrapnel - Can remote-control electronic devices and beings.
Kickback - Is a master of blackmail.
But even before certain photographs that I will not speak of, I started the column on this page to clear up various misconceptions that the Hasbro column caused - such as the idea that I am a figure like unto a shopping mall Santa Claus: good-natured, vague, and never giving a straight answer.
Q: Dear Vector Prime,
What is the purpose of Cybertronian gender ( barring things such as variety )?
A: Mostly, we have it to annoy organics.
Seriously, we haven't actually got genders. We use male and female pronouns in translation only because we thought we'd avoid more complaints that way. You think I'm kidding? Just imagine if we referred to Blackarachnia as 'he'. "OMG! But he has a high voice! And bosoms! And he's kissing another guy! Cooties!"
Q: Dear Sibling,
I have but two words for you. ROUND TWO!!!!
- Liege Maximo
A: ... But you won the last round. Go bother the Fallen.
Q: DEAR VECTOR PRIME,
THIS IS NOT A MESSAGE FOR YOU, BUT FOR YOUR LITTLE SIDEKICK, SAFEGUARD. PAY ATTENTION, MINICON ... I KNOW IT WAS YOU WHO PERFORMED THAT RATHER TASTLESS ACT OF VANDALISM AGAINST MY PERSON, AND I KNOW WHERE YOU ARE. YOU HAVE FIVE DAYS LEFT, THEN I'M COMING FOR YOU, LITTLE MAN. AND VECTOR PRIME, ANY ATTEMPTS TO DEFEND YOUR SIDEKICK SHALL RESULT IN YOUR IMMEDIATE AND PAINFUL EVISCERATION.
- Unicron
A: Oh, so it was Safeguard who did that? I will have to get him a present.
Q: Dear Vector Prime,
Do Cybertrons dream of Electronic Sheep?
A: Of sheepicrons. At least, I think Sideswipe used that term once.
Q: Do you like to destroy all the things that bring the idiots joy?
What's wrong with a little destruction?
A: 1) I would, if I were allowed. You will know that I've struck when reality shows cease to exist.
2) Plenty, if your actions could cause you to rewrite time.
And, continuing with Movie questions:
Did we have to let them detonate three quarters of the ship?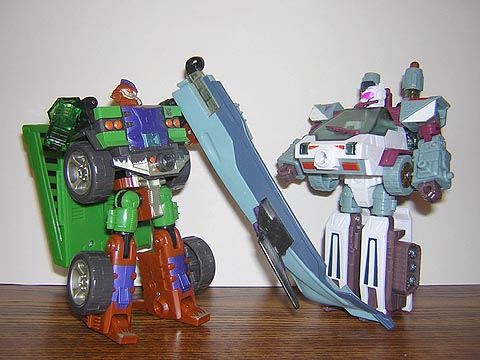 Then how are we gonna get there in this wreck?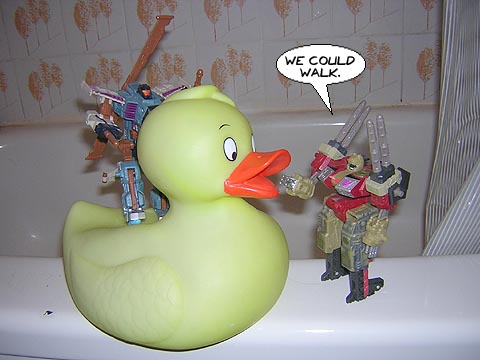 Perceptor, do you think you can find a place to set down for repairs?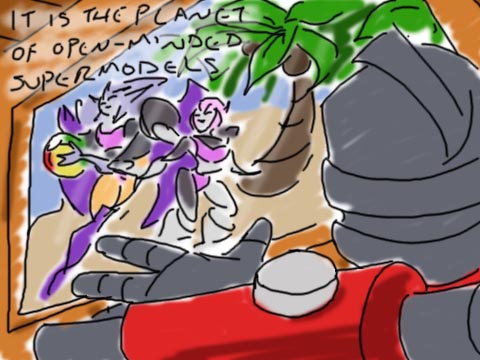 Why do you torture me?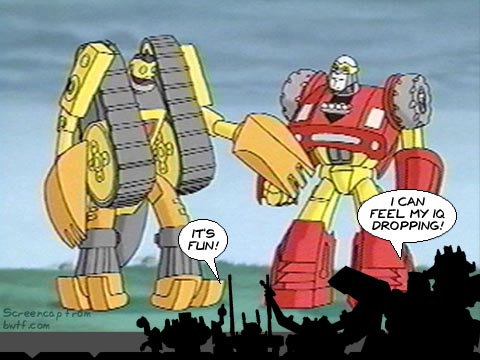 ( Screencap taken from bwtf.com. )
Guilty or innocent?

Why boy hit my node?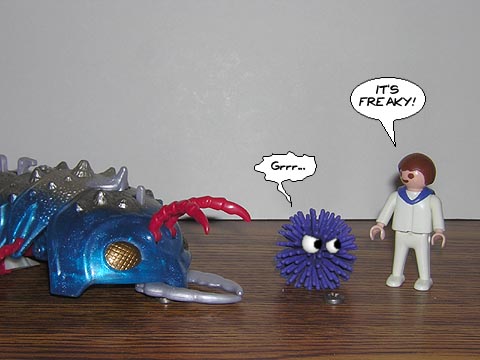 Guilty or innocent?